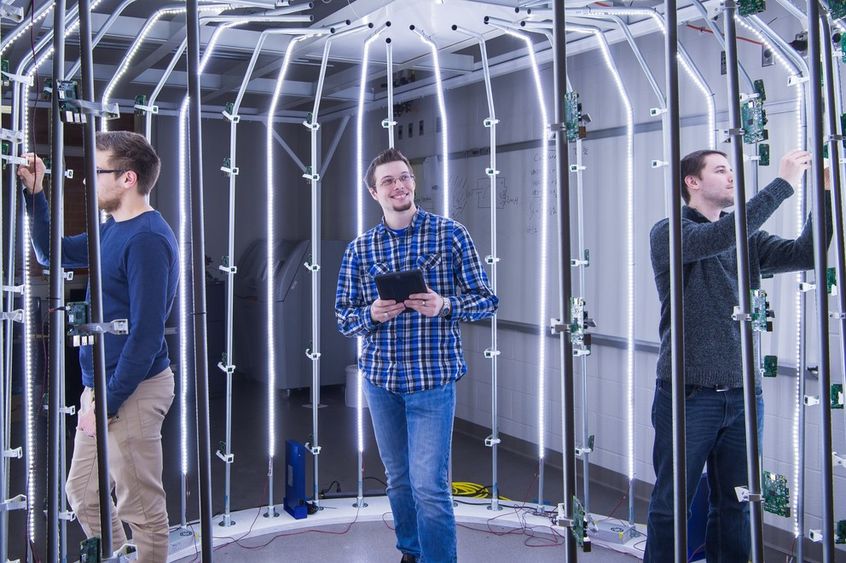 ERIE, Pa. -- The Innovation Commons idea lab at Penn State Behrend offers support for entrepreneurs and start-up companies by providing access to engineering and design experts and rapid prototyping of new products.
The lab, which opened in 2016, was itself a prototype: The first of several planned "Innovation Beehive" sites across Erie County. Its success has led to new funding – a $200,000 grant from the Appalachian Regional Commission and a $200,000 match by the Ignite Erie Industry+University Business Acceleration Collaborative – that will create a first-of-its-kind business support network with linked resources and entrepreneurial labs at Erie County's four colleges and universities. Each lab will focus on a different stage of the business-development process.
The Ignite Erie Industry+University collaborative, a three-year, $1.5 million partnership led by Penn State Behrend and funded by the Erie County Gaming Revenue Authority, helped to establish the Innovation Beehive site at Penn State Behrend. The lab is staffed by students, including representatives of Gannon University's Small Business Development Center. They have provided 3D printing, product design, CAD assistance and consulting on more than 50 business projects.
The Ignite Erie framework encourages collaboration by the region's colleges and universities. To receive funding, a project must involve partners at more than one member institution.
When the collaborative launched, organizers envisioned a network of Innovation Beehive sites, built on the Innovation Commons model, dispersed across Erie County. The new funding realizes that vision, creating the Northwest Pennsylvania Innovation Beehive Network, with linked sites at Edinboro University of Pennsylvania, Gannon University and Mercyhurst University. Erie County's Blasco Library also will develop a beehive site, which will feed business projects into the university sites.
Penn State Behrend will administer the Appalachian Regional Commission grant and serve as the communication liaison among the collaborating academic institutions.
The beehive sites will operate as both individual service providers and as part of a larger, connected network, with multiple points of entry for entrepreneurs. All services will be available to the public, and to businesses seeking to develop new products or enter new markets.
Each lab will specialize in different aspects of product or business development:
— Edinboro University will provide advertising, marketing and public relations strategies for business start-ups. The lab, which will be equipped with high-end printers, art supplies, drafting tables and other multimedia support, will be located in Baron-Forness Library.
— Gannon University will focus on business development, including business analysis. The Gannon beehive, which will be located in the Center for Business Ingenuity, will offer access to the Small Business Development Center and the Erie Technology Incubator.
— Mercyhurst University will provide business intelligence services and solutions to help developers commercialize their ideas. Blended faculty-student teams will use high-end computers, plotters and other tools to develop custom intelligence products from within the Ridge College of Intelligence Studies.
The new funding also will add resources at the Penn State Behrend beehive, which focuses on product development. The staff will soon have access to an ARKe 3D printer, which produces color 3D models from paper, and a large-scale 3D printer, with a 1-cubic-meter print area.
The Penn State Behrend lab was developed with additional support from the Invent Penn State Initiative, which blends entrepreneurship-focused academic programs, business start-up training and funding for commercialization. The program has provided seed-grant funding for 17 innovation hubs across the Penn State system.