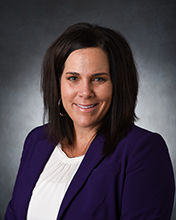 0212 Rider Bl
227 West Beaver Avenue
State College, PA 16801
Biography

Maureen Cooper is the Director of Commonwealth Campus Athletics for the Office of the Senior Vice President for Commonwealth Campuses and Office of Ethics and Compliance at Penn State. Maureen is responsible for the oversight of the athletic programs at the 14 commonwealth campuses that participate in the Penn State University Athletic Conference (PSUAC). Additionally, Maureen serves as a University resource to advocate for the five colleges that belong to the NCAA (Division III). In total, these programs serve over 2,000 student athletes across the Commonwealth. Specific responsibilities include coordinating compliance, compliance education, professional development of athletics personnel, and ensuring established standards are being met at the member campuses.

Her twenty-nine years of experience in intercollegiate athletics and higher education includes positions at The Atlantic Coast and Pac-12 Conferences (formerly the Pac-10), Wake Forest University, the University of Miami (FL), California State University, Sacramento, Wright State University and Penn State University. Her duties in these positions included athletics administration, compliance oversight, budget administration, academic counseling, teaching, development, and Title IX coordination.